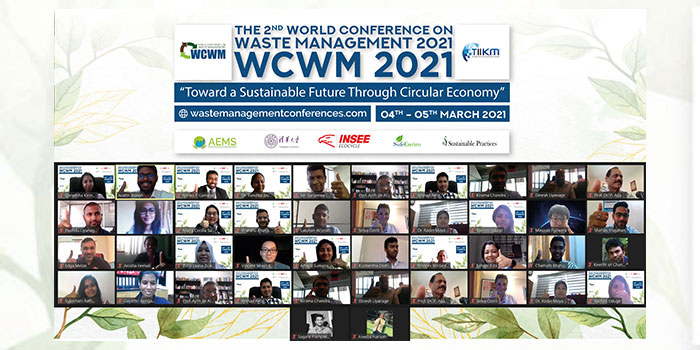 TIIKM'S 2ND WORLD CONFERENCE OF WASTE MANAGEMENT (WCWM 2021)
We share one world, and our health depends on each other.  The global coronavirus pandemic which the World Health Organization (WHO) declared in March 2020 has revealed our deepest vulnerabilities and our greatest strengths. In an interconnected world, we have seen how an infectious disease can spread across borders, cities and streets with devastating speed.   Johns Hopkins University reported that the latest number of COVID-19 cases globally is more than 117 million with global deaths of 2.6 million (as of Mar 10, 2021, Johns Hopkins University and Medicine). While protecting lives and recovery of livelihoods are at the core of national and local policies and actions, proper management of waste stemming from this pandemic – such as the use of single-use disposable medical masks, gloves, and containers– is an essential civic service to minimize possible secondary impacts upon health and the environment.
In a report titled "Waste Management during the COVID-19 Pandemic From Response to Recovery"  UNEP provides practical information, suggestions, and guidelines on Healthcare Waste Management and Municipal Solid Waste Management given the restrictions and limitations imposed by the ongoing pandemic.  This  study found that the Government of Sri Lanka formulated an Interim guideline for the management of solid waste generated by households and places under self-quarantine due to COVID-19 outbreak in March 2020, for local authorities in Sri Lanka.
TIIKM's 2021 WCWM
During March 4 -5, 2021 Srilanka's International Institute of Knowledge Management  held the second virtual World Conference on Waste Management https://wastemanagementconferences.com where renowned international scientists, researchers, activists and practitioners from academia and industry  elaborated on scientific ideas, shared experiences, discussed environmental issues, and found innovative strategies for waste management during this pandemic https://drive.google.com/file/d/18IQXMIYTlmGf0IQ344mpxLavVDexR2Dh/view.
Keynote and Plenary Speakers included https://wastemanagementconferences.com/keynote-speakers/
Ajith de Alwis, Coordinating Secretariat for Science Technology and Innovation (COSTI), Ministry of Science Technology and Research, Sri Lanka
Emma Burlow, Head of Circular Economy, Resource Futures, United Kingdom
Sanjeewa Chulakumara, Director, INSEE Eco cycle Lanka (Private) Limited, Srilanka
Eng A.G. Thusitha Sugathapala, University of Moratuwa, Sri Lanka
Madhavi Venkatesan, Northeastern University, United States
Mayuri Wijayasundara, Deakin University, Australia
The conference this year for the first time also included  5 climate change and corona themed digital art shows curated by environmentalist Selva Ozelli, Esq, CPA United States & Turkey since the UN declared 2021 the Year of Creative Economy to acknowledge the role of creative industries to accomplish the UN SDG Agenda 2030,
Written By
Selva Ozelli
International Tax Expert and environmentalist,
USA.